The Accessible Dispatch team was honored to attend the Sapolin Accessibility Awards hosted by the New York City Mayor's Office for People with Disabilities (MOPD) and New York City Mayor Bill de Blasio. The awards are named in honor of the late MOPD Commissioner Matthew Sapolin.
This prestigious awards ceremony is organized every year on or around the anniversary of the signing of the Americans with Disabilities Act (ADA). The awards serve as a platform to honor and acknowledge the efforts of organizations that have actively worked to increase accessibility for people with disabilities in the areas of public accommodation, public service, communication and technology, and employment. In addition, every year, MOPD awards one person with the Frieda Zames Advocacy Award for outstanding work within the disability community.
Congratulations to all of this year's winners!
Employer Award
Fountain House: Carol Olivia Bentinck accepted this year's Employer Award on behalf of Fountain House. Fountain House's social enterprise programs are designed to create alternative employment opportunities and encourage entrepreneurship among members.
Public Service Award
The winner of the 2019 Public Service Award was the Whitney Museum of American Art, and was accepted by Director, Adam D. Weinberg. The Whitney provides access to its museum and incorporates accessibility into its educational programs and services, including providing induction loop systems in the Hess Theater, the Laurie M. Tisch Education Center, and the Kaufman Gallery; FM assistive listening devices with headsets or neck loops for public and private gallery tours and public programs; large print versions of exhibition wall labels in the Museum galleries; and an ASL Mobile Guide Tour that explores iconic highlights from the Whitney's collection in American Sign Language with closed captioning. In addition, the Whitney provides multi-sensory tours combining vivid verbal description with opportunities to learn about art through tactile exploration; provides gallery tours in American Sign Language led by expert Deaf educators, and are offered with and without voice interpretation; and invites families with kids on the autism spectrum to join us for sensory-friendly gallery activities and a hands-on art-making workshop before the Museum opens to the general public.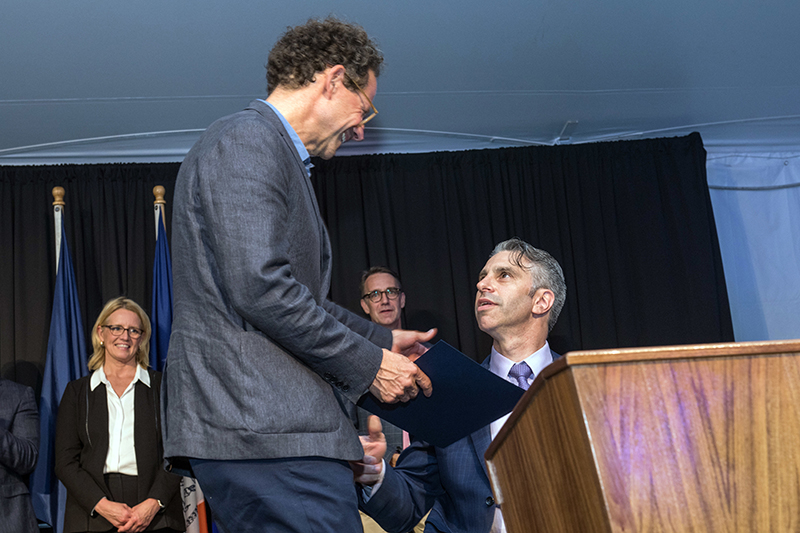 Public Accommodations Award
The NY Mets took home this year's Public Accommodations Award. The NY Mets were represented by Eric Peterson, Accessibility Coordinator and Director of Ticket Services. Citi Field was built using the 2010 ADA Accessibility Standards, thus over 800 wheelchair-accessible seat locations are available in various sections throughout Citi Field and all entry and exit points are accessible. The Mets also provide assistive listening devices, handheld radios, noise cancelling headphones, quiet areas, electrical outlets, captioning, and a dedicated drop-off and pick-up location for all guests using the Access-A-Ride. In addition, the Mets are partnering with Kulture City, Citi Field is striving to make Mets games more inclusive and comfortable for guests with sensory processing needs. Sensory Bags containing fidget toys, noise-cancelling headphones, weighted lap pads, and other sensory resources are available.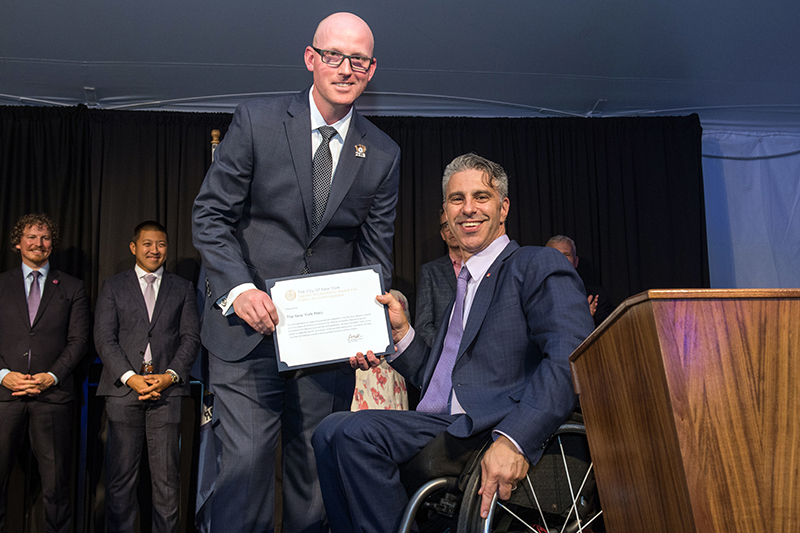 Communications and Technology Award
The 2019 Communications and Technology Award went to the Andrew Heiskell Braille and Talking Books Library, which was represented by Jill Rothstein, Chief Librarian. The Library has a program called Dimensions: Community Tools for Making Tactile Graphics & Objects that empowers library patrons to make access happen with free, hands-on training about best practices in tactile design and free, accessible hardware and software that anyone can use to start designing. In addition to the formal workshops, the Library works with groups and individuals by appointment to teach individuals how to use tactile Braille embossers to create tactile images such as maps. They also teach people how to use 3D printers to make touch objects. The technology is available for anyone in the community whether library patrons, museums, city agencies or other community organizations.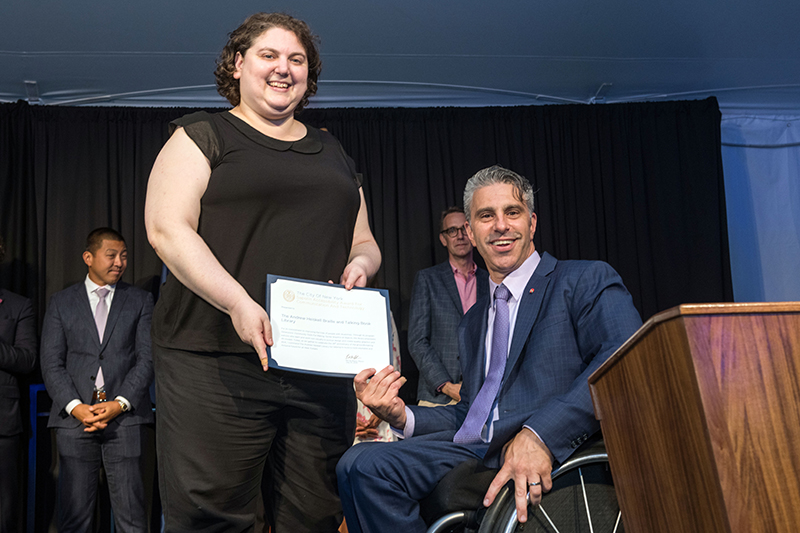 Frieda Zames Advocacy Award
Rick Surpin won the prestigious Frieda Zames Advocacy Award. Rick Surpin is the founder of three affiliated organizations in New York City committed to transforming the quality of care provided to adults with physical disabilities and frail older adults, as well as the quality of direct-care jobs. He founded Independence Care System (ICS) in 2000 as a nonprofit organization offering specialized care management services for people with spinal cord injuries, MS, Cerebral Palsy, dementia and other disabilities and chronic conditions. Over two decades ICS has become widely known for its innovative care supporting the unique needs of people with disabilities.
Rick developed an influential blueprint for reform of New York State's Medicaid-funded home- and community-based managed care system prior to the State's commitment to Medicaid Redesign. He is a past recipient of the Business Enterprise Trust Award for Social Responsibility for "courage, integrity and social vision in business." Rick has been recognized as an "Outstanding Social Entrepreneur" by the Schwab Foundation for Social Entrepreneurship that was created by the founder of the World Economic Forum, and honored by the Medicare Rights Center for his visionary leadership in healthcare.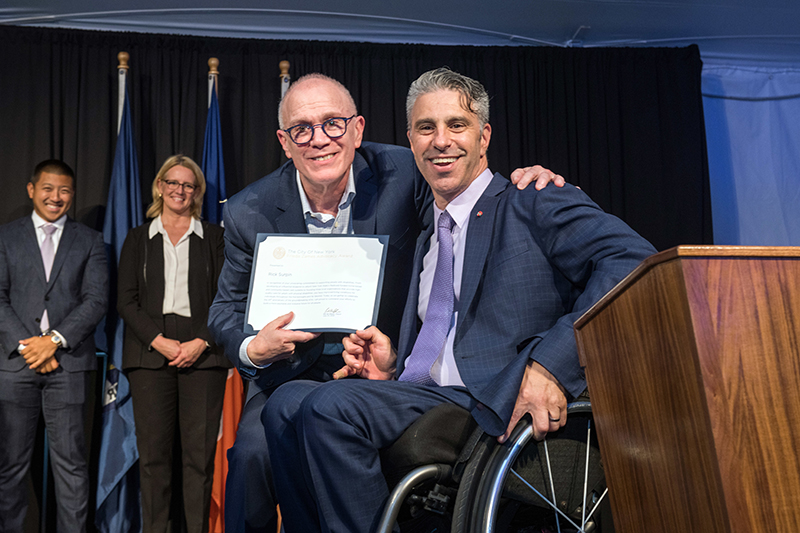 The Accessible Dispatch team extends a heartfelt congratulations to all of this year's winners. We are proud to be helping to make New York City accessible like never before for people with disabilities.
Note: All photos are courtesy of the New York City Mayoral Photography Office via MOPD.