At Accessible Dispatch, we appreciate the hard work of our driver community. Thanks to you, New York City is more accessible than ever before! Now, we've made it easier than ever to track the status of the dispatch fee payments you earn for accepting Accessible Dispatch trips, leaving you to focus on taking as many trips as you can. Any TLC-licensed driver can access information about trip history, review and validate dispatch fee payments, and check payment status via the Accessible Dispatch driver portal. The portal is easy to use, and we've already created your log-in for you. Below you'll find a step-by-step guide on how to use the driver portal. Click here for more information.
Step 1
Log-in: Accessible Dispatch has already created a log-in and password for you. From the driver portal log-in screen shown below, enter your driver hack number in both the username and password fields to log-in. When you log-in, you should update your personal contact information in the Account Settings section.

Step 2:
After you log-in, you will see the home page, which displays the Fares tab. In this tab, shown below, you will find detailed information about every Accessible Dispatch trip you have taken. Information shown includes trip dates and times, trip numbers, trip status, and dispatch fee payments.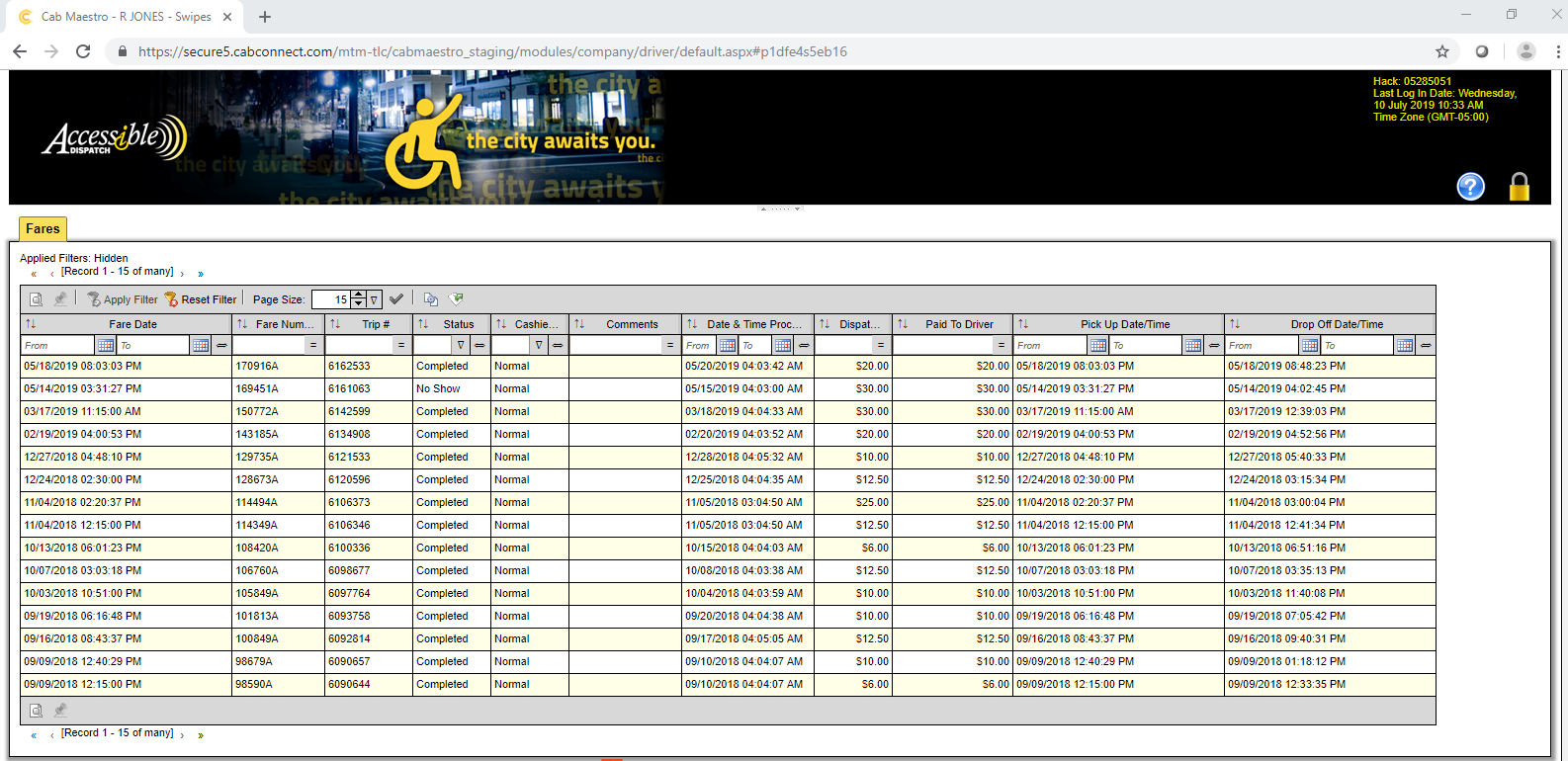 If you have any questions about the driver portal or need assistance utilizing the portal, Accessible Dispatch has you covered!
If you need to reset your log-in: utilize the self-service option available on the driver portal home page (see red arrow pointing to "Forgot Your Password?" option in the screenshot below).

if you have an inquiry or complaint regarding any trip, payment, or passenger, or have issues using the driver portal: email Accessible Dispatch at accessibledispatch@mtm-inc.net or call our Driver Hotline at 646-942-5957.
If you are a TLC driver and have never taken an Accessible Dispatch trip, now is the time start. You can earn extra money and make New York City a better place for people with disabilities! Start accepting Accessible Dispatch trips today and experience the benefits. Click here to discover all the reasons why you should take Accessible Dispatch trips.